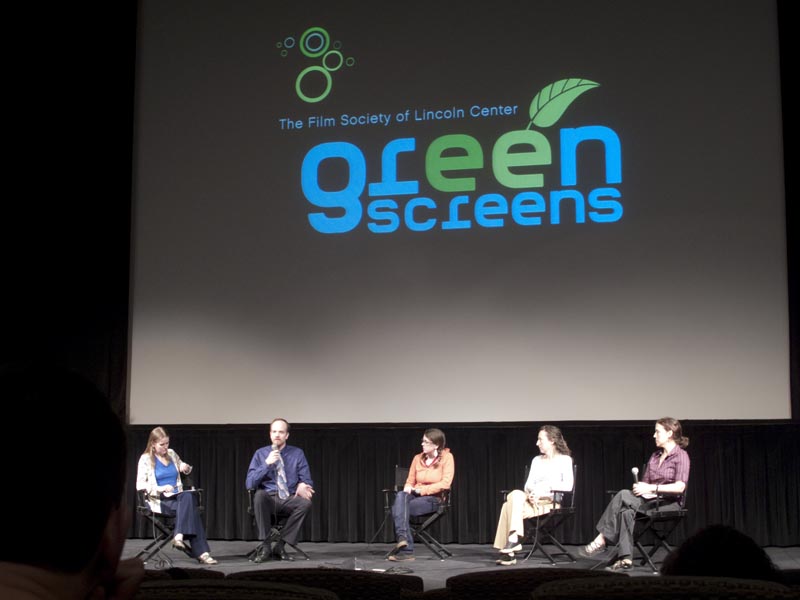 Last night I went to Lincoln Center's screening of the film Fowl Play. It is a documentary about the horrors of large-scale egg farms. You can see some scenes here, but I warn you they are very difficult to look at. I found myself in tears at more than one point in the film because of the cruel treatment the chickens were subjected to.
I was asked to participate in a panel discussion after the film, which would present alternatives to the factory egg farms. I was representing backyard chicken keepers. Matt Rice from Mercy For Animals was presenting the film and discussing how they were able to gain access to get the footage, etc. In the orange sweater was Bee from BK Farmyards. BK Farmyards is a Brooklyn-based decentralized farming network. They partner with schools, developers and city agencies to farm on underutilized land within the city. They teach organic, sustainable gardening and chicken keeping. On the far right was Jenny Brown, co-founder of Woodstock Farm Animal Sanctuary. They rescue, rehabilitate and find homes for unwanted, abused and injured farm animals. Isa Cucinotta on the far left organized the event and moderated the panel.
It looked to be an interesting evening of like-minded people sharing their knowledge and experience and I was excited (and nervous) to participate. I was totally unprepared for what ensued. The film ended with a very strong pro-vegan message. Okay. That is a very reasonable choice to make, especially when you have been in these factory farms and have seen the horrors there. What I wasn't expecting was the aggression I met with from my fellow panelists Matt Rice and Jenny Brown. We went from left to right for introductions and I was introduced as a backyard chicken farmer. No sooner had this introduction been made than Jenny launched into an attack on all backyard chicken keepers. As background: chicken hatcheries face a huge demand for hens and can't find homes for all the roosters. Some of them practice chick grinding, which is a horrible practice of dumping male chicks into a big blender as a means of disposal. You can ask your hatchery what their practice is and choose a hatchery that doesn't do that. (The alternative is that they sell the male chicks to be raised for meat.) I don't love the idea of this, but it's illegal to keep roosters in NYC and I still believe what I'm doing is light years better than buying factory farmed eggs.
Both Matt and Jenny are vegans and they wouldn't accept anything short of veganism as the solution. It was either black or white without any gray in between. The fact is that most people are not going to be vegan. Bee and I were there to offer another alternative, but we were squashed in our efforts at showing our way of producing eggs as a humane alternative. I am a firm believer that if we all take action toward something we believe in (even if it's a small step), collectively we can make a big difference. Moderation over extremism is more palatable and sustainable to most people, but my voice was overpowered by Matt and Jenny's radical views. They stated that all domestic animals are slaves, and you are enlightened if you are vegan. Our moderator was nowhere to be found during this siege.
People in the audience tried to get information about how they could get eggs from humanely raised chickens. They were told there was no way to tell if the hens were treated humanely and even told that by definition, no farm animals can be raised humanely. The audience was told a lot of very dramatic things, but the reality is that it wasn't complete information. The Farmer's Markets in the city have farm inspectors, who will kick out farms that don't adhere to their standards. There are wonderful agencies such as Just Food that work to connect local farms with New Yorkers to create a just and sustainable food system. Or there's the fabulous website LocalHarvest, that helps people find local, organic food, whether it is a CSA, farm, restaurant or farmer's market.
I felt as though I was set-up last night. Our moderator didn't prepare either Bee or myself for the possibility of facing the aggression we met with. I would have been more prepared with facts and lists of websites and wonderful organizations that promote local, sustainable and humane farming practices. Bee brought flyers about BK Farmyards with information about a fundraiser she's organizing and they were stolen off the information table. One woman later told her that she recognized the people who did that as vegan activists. I had been asked to bring my hens to the event and I decided not to because it was going to run late and I didn't want to subject them to the stress of the travel and lights going on and off after they went to sleep. Thank goodness I didn't bring them. Could you imagine how bringing my hens in a cage would have gone over??
I was shaking onstage because besides being nervous, I wasn't prepared to be personally attacked. I think ultimately I was able to convey to the audience how well-treated my hens are and what a great and spoiled life they lead. I said that there are many restaurants and shops that are becoming aware of and offering sustainable and humane choices as part of the growing food movement. I also suggested people go and visit farms as a way to educate themselves and their children about where their food comes from. That is a great way to decide if you agree with the practices of the farm. I've found that farmers are very friendly and open about letting my family come and visit. If they aren't, a red flag should go up.
After the panel there was wine and snacks. I made straight for the wine to take the edge off. I spoke with Jenny Brown a bit and told her that I had been looking forward to meeting her because I had tried to contact her organization to offer help in finding homes for abandoned/rescued chickens in NYC. She was surprised and admitted that I am a good chicken keeper. She said that she had even visited my blog before the event, so she knew my set-up. She thought that I was in the minority of backyard chicken keepers and I kept repeating that I wasn't. Every chicken set-up I've seen has been gorgeous and the chicken's needs have all been met and exceeded.
Many audience members approached me afterwards and expressed their dismay with how the event unfolded. They were interested in what I was doing and many were wistful that they didn't have an outdoor space where they could keep chickens. They referred to the other two panel members as "those vegans" and expressed their annoyance at the way they had conducted themselves. I couldn't really disagree. From what little I know, Mercy For Animals and Woodstock Farm Animal Sanctuary seem to be admirable organizations. Without the dedication of the people at Mercy For Animals, we wouldn't have seen the footage we saw in Fowl Play. They are working to make long-overdue change to the food system. Woodstock Farm Animal Sanctuary takes sick and injured animals and let them heal in a place where they can enjoy a good quality of life, which is amazing.
The trouble arises when you assume everyone is part of the problem and you immediately vilify them before you get to know them. I think in the end they turned more people off to the vegan lifestyle with their aggressive statements than they won over. I totally understand losing your faith in humanity after seeing what people are capable of doing to animals. However, I think it was a missed opportunity. There was a crowd of people who came knowing that they were going to see a difficult-to-watch film about the egg industry. Already that meant they were interested and partially on-board. The next step was to educate them and bring them over to your side. This wasn't done. You catch more flies with honey than vinegar…
A big part of my chicken keeping has been spreading the word about the joys of keeping chickens and letting people know that it is a really great way to avoid eating factory eggs. I take my hens to local elementary schools and even have school groups come to my home. I talk to reporters and teachers and basically anyone who will listen. Several of my acquaintances have gotten chickens after seeing my set-up. I am getting known as the (crazy) chicken lady in my neighborhood in Brooklyn. This is my small-scale way of teaching about alternatives to factory eggs. Even if people don't decide to keep chickens (and there are MANY reasons not to. See my post here) they become aware of the labeling of chicken eggs and learn about how they can avoid contributing to the problem.
Meeting Bee and some of the attendees was pleasant, so I guess it wasn't a total loss. I really want to hear stories about your (or your friend's) happy backyard chickens. Please email me photos as well. I want to feature you guys because I think backyard chickens are wonderful!