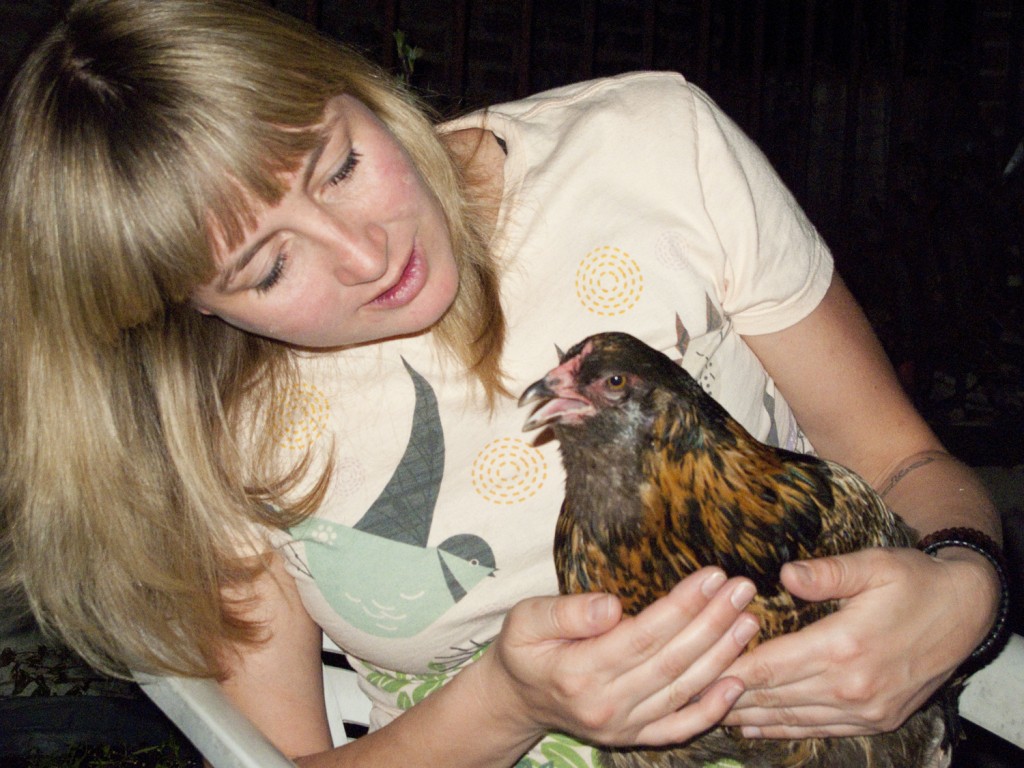 As I mentioned in an earlier post, I would recommend backyard chickens to almost anyone. Keeping chickens this past year has been a fun and educational experience for my whole family. We have brought our chickens to the local elementary school for their harvest fair and had our daughters pre-school class come to visit. Lots of  friends have come over to see our set-up, and now two of them have chicks of their own.
However, I don't think backyard chickens are for everyone. Just like I don't think dogs or cats are for everyone. Many people get animals thinking they are cute or fun or whatever and then realize that they are a lot of work. That is how so many animals end up abandoned or in shelters. So now I'm going to share the "down-side" of keeping chickens just to make sure that everyone knows what they are getting themselves into. Obviously these weren't big enough cons to keep me from having chickens, but to some people they might be. I prefer that people know what they are getting themselves into rather than abandon or mistreat an animal.
The cute fluffy chicks that arrive need an extreme amount of care and knowledge to keep them healthy. You need to keep them warm (but not too warm), you need to feed them special food, make sure their butts don't paste up with droppings (fatal), make sure they don't drown in their water dish, etc. etc. etc.
Chicks are cute and fluffy for about 2 weeks. They start getting their feathers in in about a week and turn into very awkward looking teenagers. It's amazing how quickly they look like chickens and not babies.
Chickens are very social animals, so they need friends. In other words, you can't just get one chicken or it will be depressed and lonely.
Chickens don't like being confined in a small space. They can get bored, which leads to gruesome acts such as feather picking (Where they pull feathers out of their companions). Ouch. Once they see blood, they pick even more, which can actually lead to cannibalism.
Chickens need special diets for different stages of their lives. If they don't get the proper, balanced nutrition they might have problems with feathers breaking off, or eggs coming out with soft shells (or no shells!)
Chickens like to scratch and peck. If you let them out in your yard they will turn a small bare spot into a big, bare spot. They like to dig into the dirt and take dust baths.
Chickens like to eat greens. That means not only grass, but also the lettuce you planted, the unripe blueberries you are waiting to eat, the ferns you just planted. You get the picture. They are like small goats. Almost anything is considered food.
You need to check on your chickens every day. In the summer you need to make sure they have plenty of water and that they aren't overheating. In the winter you need to make sure their water hasn't frozen. In the rain you still need to check on them.
Chickens like to eat chicken eggs also. If you don't gather your eggs every day, the chicken might accidentally break one. As I mentioned above, chickens like to eat just about everything, so they will try the broken egg. That is the point where they decide they love the taste. You now have an egg-eater, who will deliberately break eggs to eat. When you go on vacation, you will need to find someone to gather eggs every day to prevent this from happening.
Bird droppings smell. You will have to clean out the coop regularly to keep the ammonia from building up. Ammonia is bad for the birds to breathe and it is bad for us to smell. Droppings will attract flies and will repel your friends. Chickens can't control their bowels like cats and dogs, so you could get hit at any time.
Chickens are prone to getting parasites. Whether you introduce a new bird that has lice, or wild birds with mites fly into your yard, you will inevitably have to battle external parasites. I am in the middle of this battle and it is no fun! You have to scrub down the coop, spray or dust in every crevice and spray or dust your birds. I will make a post soon about this episode of our chickens lives. Parasites can kill your bird, so you have to deal with them. I just put my girls in a warm bath and cleaned the caked-on poop off their butt feathers yesterday. Make sure you are willing to do this! In case I'm not conveying how gross this is, you can see egg clusters around the base of feathers, scabs on your chickens butts and poop from the mites stuck in their feathers.
Chickens lay eggs reliably for about 2-3 years. Chickens can live for about 10 years. What are you going to do with an old chicken that doesn't lay anymore?
Chickens are pretty delicate animals and can get sick. There are not many vets who take chickens. Are you willing/able to diagnose what's wrong with your chicken? Will you be able to  massage an egg out of your hen if it is stuck? Would you feed your chicken with an eye dropper if it stopped eating? Would you be able to humanely kill your chicken if it got mauled by a predator? Again, most vets won't take chickens, even to put them down.
Chickens need a safe and secure henhouse. You need to be able to keep your hens warm in the winter, cool in the summer. Animals such as raccoons, hawks, opossums, foxes and dogs should not be able to get into their run or coop.
Chicken feed can attract rodents. I don't think I need to elaborate on that one.
Have I lost you yet? Why would anyone be crazy enough to keep a chicken??  I think if you weighed many things in life you would find many cons to counter the pros. I can think of about 9,999 reasons not to have a baby, but I wouldn't trade my kid for the world.
I love keeping chickens and to me they are more than worth any work they give me. Please make sure the same is true with you before you order some cute, fluffy chicks.