This year we finally got smart. Over the last 8 years or so we have had a neighbor's mulberry tree drop berries in our yard. I have very fond memories of climbing mulberry trees as a child and eating the sweet berries. That was never possible with this tree. The tree isn't in our yard, so it's not possible to climb the trunk. And the branches are so high that you cannot reach the fruit. So by the time the berries drop, they are already overripe and starting to ferment.
I am not a fan of people complaining about "messy" trees. The leaves, needles, pollen they produce are part of the package. This mulberry tree has gotten so large in the past couple of years that it shades and overhangs more than 1/3 of my garden. The chickens eat some of the berries, but really cannot make a dent. I lay out landscaping cloth during the 3 weeks of berry drop to catch the berries. You may have seen me waging war in recent years.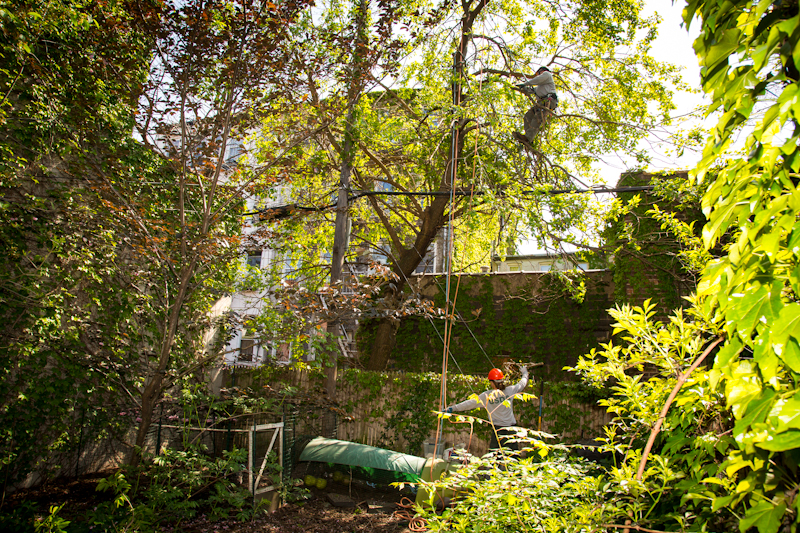 Anyhow, this year instead of complaining about it, we decided to do something about it. We hired an arborist to prune the branches that overhang our yard. Seems totally obvious, right? Well, when you are a renter, there is a weird mindset about paying for stuff like this. Anyhow, we are thrilled with the job they did. They had phone lines, a fence and our chicken coop as obstacles, but they didn't hit any of them. It is money well spent to be able to avoid 3 weeks of rotting berries dropping on our backs when we are in the back of our garden.