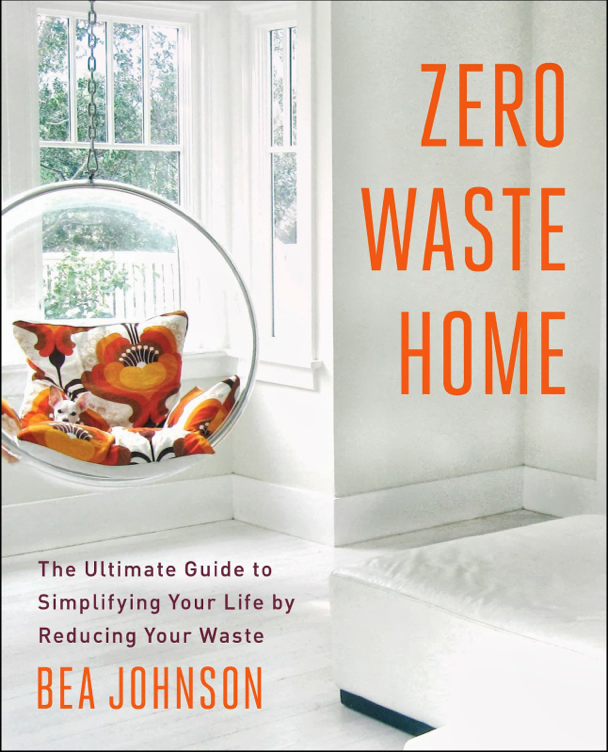 I would like to recommend a book to read before holiday shopping mania grips everyone. It's Zero Waste Home by Bea Johnson. Some of you may be familiar with her blog. If you aren't, I would suggest popping over there. It's worth it.
What is Zero Waste? It is an attempt to create zero garbage. It is a daunting proposition, but Bea talks about her own experience with a wry sense of humor that I found particularly engaging. When anyone proposes something so radically different from what society considers normal, it is hard not to sound preachy, however I think that Bea skillfully walks the line between being fervent about her topic, and funny while describing her road there.
At the beginning of her story, Bea talks about her family's desire to downsize their home and simplify their lives as a part of their growing environmental awareness. They moved into a smaller home, and while their belongings were in storage, they realized they were happier without all their "stuff". They decided to keep only what they truly used, needed and loved and got rid of the rest.
Zero Waste Home is packed with ideas and suggestions for how to simplify your home room-by-room. It gives great recipes for cleaners and even make-up. There are links to many resources including one devoted to all the uses of vinegar.
She knows that she raises eyebrows when she walks into her Whole Foods with glass containers and cloth bags with the tare weight printed on them, politely asking for no packaging. Her choices of products may be limited to what is available in the bulk section, but she is okay with that. She is very clear that Zero Waste doesn't mean that she recycles all of her waste. She tries not to produce any in the first place. In one year the average American produces 1,051 lbs of garbage, while Bea's family produces one quart. That is pretty compelling!
Does she go too far? She describes being a bit of a zealot at first and then realizing the negative repercussions of this zealotry and pulling back a little. The example she brings forward (with her self-deprecating humor) is that in the beginning, she used to forage moss to use as toilet paper.  Her family has gone back to using toilet paper, which has brought forth critics saying she doesn't go far enough toward Zero Waste. Again, when you put yourself out there, you are exposing yourself to scrutiny and criticism. I imagine that most people would not be able to maintain her level of commitment. It is something that everyone in a household needs to be on board with for it to work on her level.
One of the ideas that I really appreciated was her addition of "Refuse" to the 3 Rs (recycle, renew, reuse). What if we work diligently to prevent this landslide of stuff from entering our homes in the first place? How about if we don't take the free shampoos hotels offer?  Or the corporate t-shirts that nobody ever wears? What if we take the time and remove ourselves from junk mailing lists? We won't be faced with the dilemma of what to do with that stuff once we are home. And hopefully fewer of these items will be made in the first place.
Bea goes on to describe how much happier, healthier and even wealthier her family is now that they aren't burdened down with a huge house (to clean and furnish), giant lawn (to mow) and loads of possessions. She is encouraging and helpful in giving ideas and suggestions for how to begin the journey towards a Zero Waste lifestyle. She has even developed a mapping app that helps locate bulk food stores around the world.
I recommend reading her book as a way to stave off some of the holiday shopping frenzy. I have been sewing gift bags from my fabric stash as an alternative to one-use wrapping paper.
So in the interest of Zero Waste, I would like to pass my copy of her book along to you. Please leave a comment about what you are doing, or are planning to do to help reduce your waste. I will pick someone at random on Black Friday (11/29), so leave your comment before then.