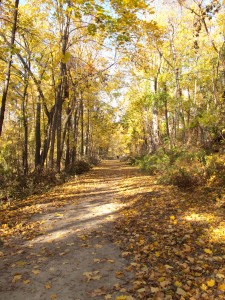 The weekend before last weekend (I'm about a week or so behind because of being buried in work) we had the most spectacular Fall weather. We needed to be outdoors in nature immediately and decided to go bike riding up in Dobbs Ferry, NY. They have a public trail that follows the route of the old Croton aqueduct. Although Dobbs Ferry is quite near the city, we haven't spent any time there. It is a very quaint town with very interesting architecture. The homes range from pretty to spectacular. We had to pull off the trail to see the most amazing house. It looked like Willie Wonka lived there. I had to accost strangers on the trail to get more information on it and was told it was called the octagon house.  Take a peek at this link to see some interior views. It's really amazing – especially the dance room! I'm going to have to read more because I have no idea why there's a phrenology model with the other photos.
It was nice to ride through the woods with the gorgeous fall foliage. I loved that this trail runs behind, and in some cases, through huge estates. Public access!
Here are some photos of the day.