In this post, I showed how to make sauerkraut. I used a plain old ball jar to let the veggies ferment. I found this technique to be problematic, because it was difficult to weigh down the veggies.
When fermenting veggies, you really need to keep them below the surface of the brine. If they aren't below, mold grows on them. Now, this isn't uncommon, and many people routinely scoop the "scum" off the top. That just made me squeamish. It's really funny, because if you ask most of my friends, I have a very high "skeeve" threshold.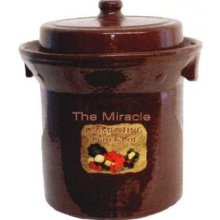 I wanted to get a crock that was made specifically for fermenting and pickling. In comes the Harsch Crock. This guy is expensive, but it's the kind of thing you buy once. It comes with weights that sit on top of the veggies to keep them submerged in the brine. It also has a channel in the lid that you fill with water, which allows gases to escape the crock, but doesn't allow air or debris in.
I looked online at all the tiny photos like this one and ordered one. I was very surprised with how huge the crock was when it arrived. Does anyone else have this problem? Tiny photos, nothing next to it to show scale…? Okay, I know it said 5 liter capacity…
So, it's been sitting around waiting for me to want to make an enormous batch of sauerkraut or pickles. I also got a mandoline to help with slicing all the cabbage.
My Very Loose Recipe for a 5 liter crock (you can also use just cabbage, or add other veggies like radishes, garlic, bok choy):
3 heads of cabbage. I show a head of red cabbage below, but decided to stick with just green cabbage. You can certainly use red, but your sauerkraut will turn out pink.
4-5 large carrots
4-5 turnips
1 large onion
2 leeks (white part)
appx. 9 T salt
After slicing all the veggies, you need to add salt and knead until the vegetables release the water from their cell walls. I add about 3 T of salt per large pasta bowl. I filled this bowl three times.
After you have done this, you should take handfuls of the veggies and press them firmly into the crock. I use my fist to tamp them down. Add all the water released and press the veggies under the water level. If you don't have enough liquid, you can add 2 cups of water with 1 t. of salt dissolved in it. I save a few whole leaves of cabbage to place on top of all the chopped ones. This helps hold the loose pieces down.
Then put a plate, rock, ziploc filled with salt water, or the weight from the crock on top of the cabbage leaves to keep everything submerged. You let this sit out for a few weeks to ferment. Taste it periodically to test how fermented you like it. Too fermented gets mushy.
I made this batch about a week ago and the crock is sitting in a corner of my kitchen. I kept hearing little blerps and couldn't figure out what the source of the noise was. It turns out it was bubbles emitting from the sauerkraut crock. Euw. As I mentioned in my previous sauerkraut post, you have to get over the fact that the food is basically rotting away. That is part of the process and it produces a delicious food that is extremely healthy.