There are many things we love to do when we're up in the Berkshires. Taking hikes is at the top of the list. It is still a bit early (snow and mud on the ground) to go on the more ambitious hikes, so we decided to take a simple walk along Ice Glen road. At the end of the hike we ran into a woman walking with her puppy. We stopped to talk with her and discovered that she keeps chickens and raises or grows all her own food. She also has a flock of alpacas and spins and weaves the fiber. I mentioned that I spin and she invited us to walk over to her house, where she gave me a trash bag full of her alpaca fiber.
It was crazy how much we had in common with her. She mentioned that she has a son who's a photographer in Brooklyn. But what put me over the edge was when she said that I could dye the white alpaca and mentioned that she picks wild mushrooms to dye her fiber. She uses turkey tail mushrooms to dye her wool blue. I'm going to have to keep my eye out for them this year.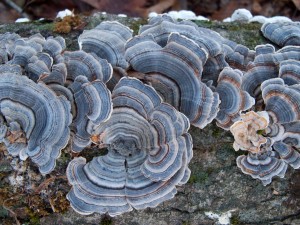 My new challenge is to process the fiber. I usually buy fiber that has already been washed and carded. I am going to borrow equipment from someone in my spinning group to card it. I'll post more when I work on the fiber.
I am excited by this new challenge. It was so unexpected to meet such a nice woman and come away with gorgeous, soft alpaca fiber.