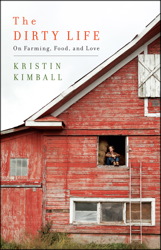 Do you ever read a book so good that you can't put it down? But then when you get to towards the end, you want to prolong it and make it last? And when you are finished, you feel a little lost because you don't have another book lined up that is as good as the one you just read? The Dirty Life is one of those great books. The author Kristin Kimball writes about her experience of leaving her life in New York City to start a farm. She doesn't leave out the hard work involved, which I think makes it more realistic and compelling.
I don't want to say more about it. Just give it a hearty recommendation.
And now I need a recommendation for a good book to fill the void.