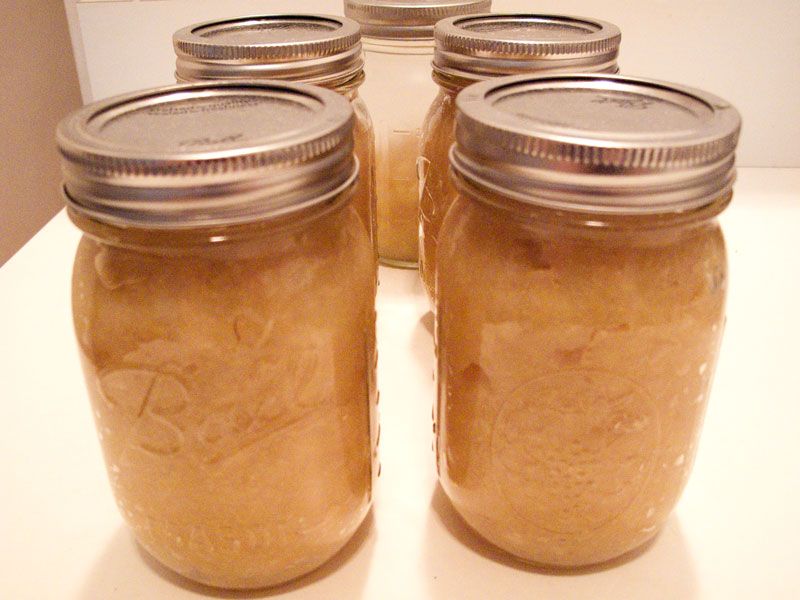 By this time, nobody in the family was reaching for apples. I still had a huge pile of them, so I decided to do my first experiment in canning. Apple sauce. I have made apple sauce before, which is ridiculously easy, but I have never canned it. I have the book Putting Food By, which is great, but should be subtitled Scaring You Silly About Salmonella. It gives very detailed directions about canning to ensure success. Here's a site that gives some simple instructions for hot water bath canning, which is what you use when canning fruits, tomatoes or other items with high acidity.
I wasn't really following a recipe and since this was the first time canning, I made a guess as to how many apples to use. Turns out that I could have double the amount, because in the end I only had 4 1/2 jars worth of applesauce. That was a disappointing yield coupled with the fact that I still had some leftover apples. Not too many though, so I think my work is donee!
Recipe for Applesauce (very loose guide)
Peel and core as many apples as you have. Add to a pot with some liquid like apple cider, apple juice or water. The liquid keeps the apples from scorching. Cook slowly over med-low heat. Stir often. Spice how you like your apple sauce. I used plenty of lemon juice and grated ginger. You could be more traditional and use cinnamon.
Stir and taste often. You can run it through a food mill if you like a liquid applesauce. I prefer mine chunky, so I attacked the apples with a potato masher once they were soft.