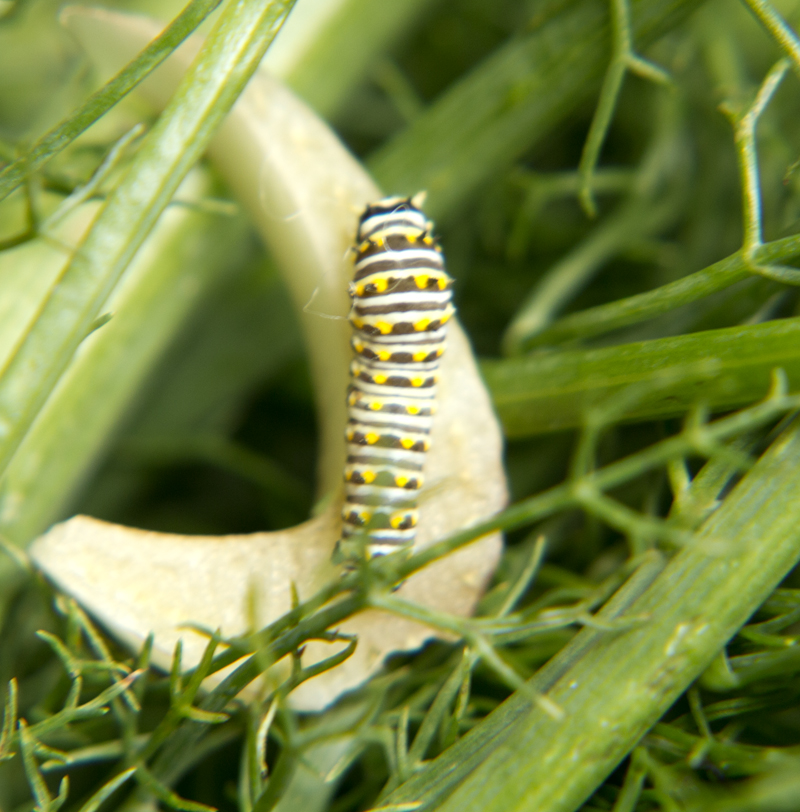 Last week we got fennel as part of our CSA share. I made a yummy shaved fennel salad with a lemon dressing and tossed the ferny tops into my chicken scrap tub. When I went to take the greens out to the chickens I noticed 2 interesting caterpillars munching away. Upon checking the internet (what caterpillars are on my fennel?) I found out that they were Eastern Black Swallowtail caterpillars. I found this site to be particularly helpful.
I thought it would be a fun project to raise our caterpillars indoors. Besides fennel, they like anything related to carrots, such as parsley and queen anne's lace. I pulled a parsley plant out of my garden, stuck it in a pot and laid the fennel greens on top of it. I also borrowed a Butterfly Garden enclosure to contain the critters. They really move around when you aren't looking. I had a funny moment when I was looking at my parsley plants outside and thinking about these beautiful, exotic caterpillars that would *never* live in Brooklyn. Well, there was one sitting right on top of my parsley plant. I decided to leave that one in the great outdoors and concentrate on the 2 I had. After a day, one had doubled in size and the other one died.
The one we have left, which we affectionately refer to as chubby, keeps doubling in size and eating up a storm. I added carrot tops to the enclosure and it seems to be thriving. Here's a video of the little guy munching away on the parsley. I shot still frames and made a kind of time-lapse video. It only took about a minute for him to eat all those leaves!
I can't wait to see it transform! My sister raised some Anise Swallowtails in her garden. You can read about them in her blog here.

Black Swallowtail Caterpillar from Martha Lazar on Vimeo.