Elderflower syrup is one of those magical liquids that is a perfect mix of sweet and floral. It is the G-rated version of St. Germain. You mix a tablespoon or two with seltzer and you have a refreshing summer drink. Syrups aren't as common here as they are in Europe, and therefore are generally pretty expensive. The one I have was brought to me by friends visiting from Austria.
With all the beautiful, creamy white blossoms popping last weekend, I decided to try making my own syrup. I did a quick search and found this recipe. It calls for citric acid, which I didn't have on hand. I substituted a packet of EmergenC and hoped that it wouldn't give it a strange flavor (which it didn't).
You have to brace yourself for the insane amount of sugar used in the recipe. Also, I suggest having everything on hand, because elderflower blossoms are very delicate and start to wilt very quickly.
Recipe adapted from Hunter Angler Gardner Cook:
3 quarts water
entire bag of sugar
juice of 6 lemons
zest of 6 lemons
2 packets of EmergenC or 6 T citric acid (to prevent spoilage)
75-100 elderflower flower heads (I just filled the jars to the top) with the stems trimmed


Fill a bowl with the flowers, lemon juice and lemon zest. Heat the water and sugar on the stove until the sugar dissolves. Add the citric acid. Pour liquid into the bowl and stir.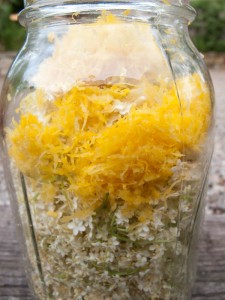 Cover the bowl with a cloth and let sit for a few days. Strain the liquid through cheesecloth into clean jars.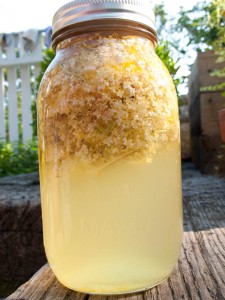 Since our trip was ending, I didn't have the time to let everything sit in a bowl. I put the flowers and lemon juice and zest into jars and poured the sugar syrup into them. I saved some extra syrup, which I used to top off the jars once I strained out the flower heads.
The flavor is nice and lemony, but I still prefer my expensive Austrian syrup. I have to figure out how to get more of the floral perfume to infuse into the syrup. I'm not too disappointed because I know that we will happily use up our homemade elderflower syrup.