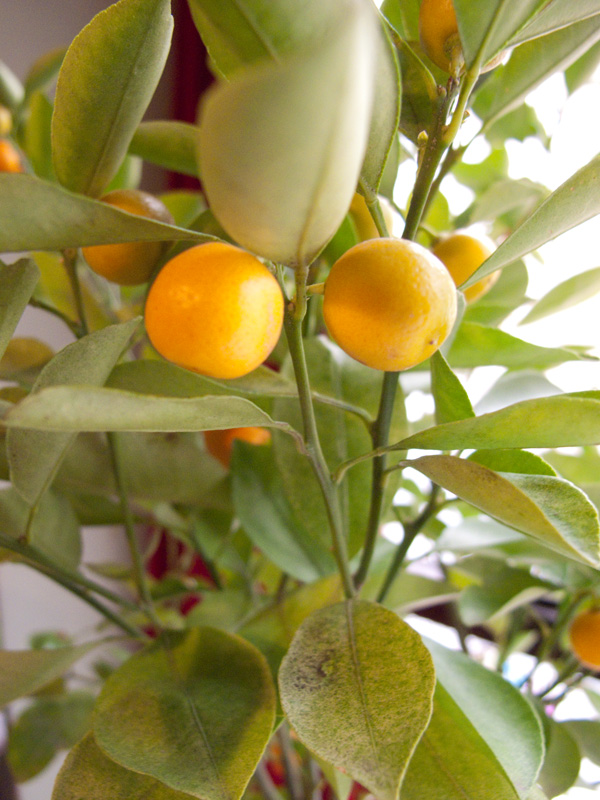 I got a call the other day from my friend Victoria asking me if I would like a kumquat tree. I love calls like this! Among many other things, Victoria is an amazing food stylist. She has been working with a photographer who shoots out of his home in nearby Brooklyn. After their shoots they often have props that they can't use or return. What is so great, is that Victoria thinks of me and asks me if I need…whatever it is. I'm so greedy, that I never say no.
Hopefully my little kumquat tree will survive the chilly ride in the messenger van! I also have 2 huge blueberry bushes in my backyard courtesy of Victoria. I know she's happy that this stuff goes to good use, and of course I'm happy because I get to play with fun new things.
Last year Victoria's son came over to pick blueberries with my daughter in our yard. It's a funny urban/farming experience we bring to our children.
Update: I think that this little tree isn't in fact a kumquat. I think it's a calamondin based on looking through a gardening catalog. Their description is apt: It produces an abundance of round bright orange 1-1/2″ fruit. The fruit is easy to peel and has few seeds. The orange colored pulp is juicy and sour (this is an understatement!). It can be used as a flavoring or as a juice like a lemon or a lime. When sweetened with sugar it makes a delicious marmalade.