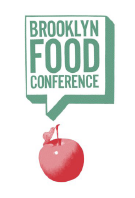 My friend Alison who went foraging with me on Saturday works for an organization called World Hunger Year (WHY). She is working to organize a huge event called Brooklyn Food Conference, which takes place on May 2nd. Admission to most of it is free, with a dinner and dance costing $20. Anna Lappé and Raj Patel will be among the speakers. There are events for kids, lunch, etc. It runs from 9am to 6pm. The dinner begins at 6 and the dance at 7pm.
Here's a really great article on Alison and WHY.
Unfortunately I will be out of town on the 2nd. I will be petting sheep at the Maryland Sheep and Wool Festival.